BlueGriffon Milestone 1
By glazou on Friday 8 October 2010, 07:46 - Nvu - Permalink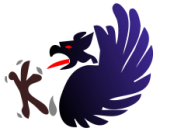 I have released a first public version BlueGriffon, milestone 1 (v0.5), on Mac OS X, win32 and linux32. It's already stable enough to be used to a daily basis even if it's obviously not feature complete. Since BlueGriffon is the successor to Nvu (and KompoZer), let me highlight here the main differences between the two apps:
completely rewritten from scratch, zero line shared with Nvu/KompoZer
based on mozilla-central (Nvu was based on Gecko 1.7...) ; does not patch at all the trunk
CSS Properties panel offering control on all CSS 2.1 and implemented CSS 3 properties in Gecko 2, including CSS 3 multiple gradients, columns, shadows, transformations, transitions, flex box model. The underlying code is also much more robust than the old CaScadeS editor included in Nvu: it will automatically generate the necessary style rules in the last editable stylesheet in your document, embedded or included (in a file for the time being, http://.. links not handled yet)
there's now one source view per document, you're not forced any more to go through normal view to switch between two source documents
the Table Properties dialog was entirely rewritten. A lot of its features were buggy in Nvu/KompoZer and they now all work correctly.
there is a New Document Wizard in the File menu allowing the user to create a document using Yahoo! Grid Templates
SVG Edit, a superb SVG Editor that is an add-on to Firefox, is included
BlueGriffon can deal with HTML4, XHTML1, HTML5, XHTML5 documents
it already has UI for <video> and <audio> elements
it has an update manager able to tell you if a new version of BlueGriffon is available
uses Skywriter/Bespin for the source view ; the old hack based on the plaintextEditor is gone, finally
has zoom controls in the sidebar
some code written in C++ for Nvu moved to JavaScript, thanks to the dramatic speed increase of JS in Gecko
the horizontal and vertical rulers around the content area are now SVG-based
much better architecture allowing a wide set of add-ons
nicer table insertion panel
Known issues:
there are big issues with XUL content contained in an iframe itself inside a <panel> on linux; I had to downgrade the CSS Properties panel into a standalone window on Linux
the Insert and Format menus are still empty, the context menus on the content area and tabs are still empty, that's not a bug
the class dropdown menu in the format toolbar is horked
There is still a lot on the radar but after long months spent on the underlying architecture, I am now progressing at (I think) really fast pace. So don't be surprised if you see new public versions of BlueGriffon appear earlier than expected. On the radar for the coming 7 days
Insert menu, including all HTML 5 elements
fixing the class dropdown
Code Snippets add-on
content area's context menu
better jQuery integration in the New Document wizard
Yay!